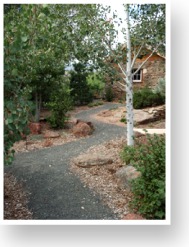 We are a diverse group of people who are passionate about designing, building and helping maintain beautiful spaces, places and things. Although our primary business is "landscaping", that does not capture the breadth of our capabilities. Past projects have included major home remodels, commissioned art work, party planning assistance and much more.
While we do many things well, what we are best at is building enduring relationships. This is the result of our dedication to earning and keeping our client's, associates' and supplier's trust. We love what we do. We believe the best way to succeed on the path of 'building beauty' is by impressing people who value our enthusiasm, knowledge and experience.
The size of a potential project is not important. Determining if there is a fit between our abilities and your needs is important. Ideally the match is so good that through our creativity and performance we can excite and delight you in the process as well.
A truly successful outcome is us helping you get exactly what you wanted even if you could not fully describe or picture it beforehand. A rock is only a rock unless it is animated with spirit. An amazing transformation takes place when vision, passion and craftsmanship come together just so: artistry blossoms, beauty abides and those of us lucky enough to participate in it are fortunate indeed.
Please contact us or call if you would like to be part of stories yet to be written.